기술 인재를 육성하는 브리티시컬럼비아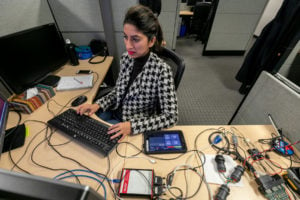 British Columbia (B.C.) is a top choice for tech companies. The province is home to numerous technology clusters in cities such as Vancouver, Victoria and Kelowna. Companies have the opportunity to be at the forefront of developing innovative solutions and platforms by working with world-class research facilities, top ranked universities, and diverse and highly skilled talent. British Columbia invests in the future of the technology sector through education, accelerators, and research and development.
British Columbia's 25 post-secondary institutions work collaboratively with the region's growing and vibrant tech sector. Across the province, over 3,000 students a year graduate from British Columbia's computer science and engineering programs. These world-class institutions house a wide variety of innovative research labs and centers of excellence, including:
These research labs are further supported by a strong accelerator community led by Innovate BC through its Venture Acceleration Program. The program is publicly funded and intended to guide, coach and grow ambitious early-stage entrepreneurs and their tech ventures. It is delivered by a network of regional accelerator partners across the province. British Columbia also has a host of private incubators and accelerators that offer coaching and access to seed funding.
Innovate BC partners with British Columbia's leading universities to deliver strategies that encourage the development, application and commercialization of technologies, support and develop entrepreneurs, and create partnerships between universities and industries to create innovative solutions to real-world problems.
There are numerous university accelerators across the province. These workspaces will assist students, faculty, alumni and community partners turn their innovative ideas into impactful solutions. HATCH at the University of British Columbia focuses on technological and social innovations. VentureLabs at Simon Fraser University offers accelerator services to technology-based start-ups with university programs that include C2CAN which helps Canadian companies explore Chinese markets and Incubate Innovate Network of Canada which creates a community to commercialize university-based and science and technology-enabled innovations through internationally connected networks of accelerators.
The University of Victoria (UVic) has opened a new creative workspace at KWENCH. This site focuses on supporting early-stage start-ups on their path to success with free programing to encourage venture research. One of their programs, W Venture, focuses on supporting women. This program is delivered by partners including UVic, Viatec and Accelerate Okanagan with funding from Canada's Digital Technology Supercluster to assist over 40 female entrepreneurs on their journey.
Graduates from leading university programs, research labs and excellence centres along with the accelerator communities across the province all contribute to B.C. earning a global reputation for consistently producing tech unicorns. British Columbia is home to one of the fastest growing technology industries. Over 10,000 tech companies, ranging from global giants to fast-growing start-ups, choose to operate in B.C., where the technology community focuses on innovation, collaboration and growth. Learn more about why you should choose B.C. to start or grow your technology company by following Trade and Invest BC on Twitter and LinkedIn.