공급망 복원력 및 B.C. 바이오에너지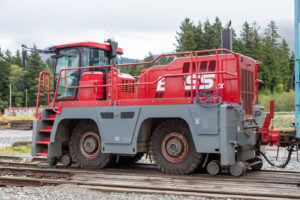 Over the past year, there has been robust growth in British Columbia's (B.C) wood pellet sector. Between November 2020 and October 2021, British Columbia, Canada wood pellet exports increased by 30% – with an additional 400,000 metric tonnes of pellets exported to Japan through the Port of Prince Rupert.
Presently more than 50% of B.C.'s pellets (1.25 million metric tonnes in 2020) are exported through the Port of Prince Rupert. Over the next two or three years, the port will see another 60% increase (2 million metric tonnes) of wood pellets through the Westview Terminal. Located in B.C.'s North Coast region, along the Alaskan panhandle, the Port of Prince Rupert provides prime market access to Asia. It offers shippers an unparalleled mix of reliability and speed; it's the deepest harbour in North America, ice-free year-round, and North America's shortest and fastest trade route on the transpacific. The route is nearly 500 nautical miles closer than any other port in the Pacific Northwest, saving up to 60 hours of sailing time.
Given the Port of Prince Rupert's strategic importance for the B.C. wood pellet sector to reach global markets, the Wood Pellet Association of Canada (WPAC) is working with industry partners, including Pinnacle Renewable Energy (Drax Group) to expand B.C.'s wood pellet export capacity at the Westview Wood Pellet Terminal. The supply of B.C. wood pellets in international markets and strengthen B.C.'s supply chains by increasing competitiveness and resiliency.
In support of the project to expand export capacity at the Westview Wood Pellet Terminal, WPCA obtained a grant through the Government of British Columbia's Supply Chain Resilience Grant Program. The grant program is part of the $16.25-million B.C. Supply Chain Resiliency and Value-Added Manufacturing project.  The Program is part of the province's StrongerBC Economic Plan to accelerate the B.C. manufacturing sector's innovative capacity, strengthen critical provincial supply chains, and create new, sustainable economic opportunities for businesses.
Supply chain expansion along the Prince Rupert corridor
The Westview Wood Pellet Terminal expansion will include adding additional railway tracks and storage and allow suppliers to better serve international customers by better mitigating supply chain risks due to weather, late vessels or mechanical issues, and the disruption to the hundreds of jobs associated with manufacturing and logistics. Once completed, WPAC members and wood pellet producers including Canfor, Witset First Nation, Skeena BioEnergy, La Crete Sawmills, Vanderwell, Pinnacle/Drax, West Fraser and Premium Pellet will be using the Westview Terminal to supply international markets with renewable and clean biomass energy.
From waste to bioenergy, contributing to a low carbon economy
Global demand for wood pellets is growing quickly as markets seek alternative renewable fuels and energy sources to replace fossil fuels. Woody biomass, an organic material used as energy, is the most common biomass available in Canada and worldwide. Wood pellets are manufactured using this wood waste, including logging and sawmill waste, which is pressed at high heat and temperatures. Lignin, the natural glues that hold together wood, bonds the pellet as it cools.
British Columbia is a forestry leader
B.C. has more forests certified to internationally recognized sustainable forest management (SFM) standards than any other jurisdiction other than Canada as a whole. B.C. is a hub of forestry research and development and sustainability. Beyond conventional forestry products such as dimensional lumber, pulp and paper, B.C.'s forestry sector is actively researching and developing emerging and advanced bioproducts that expand beyond engineered wood and bioenergy, to bio-concrete, bio-textiles and even biochemicals from cellulosic sugars in lignin that are used in food, pharmaceutical, cosmetics and adhesive applications.
B.C. is globally connected with a modern infrastructure of ports, airports, roads, railways and a state-of-the-art communications network. We offer 36 airports, 30 USA border crossings and the Port of Vancouver is the largest port in Canada. Explore British Columbia's advantages.
Contact the Trade and Invest BC team if you are interested in export or investment opportunities in B.C. forestry and bioproducts.
Want the latest and greatest news from the forestry sector? Follow us on Twitter and LinkedIn.