인도네시아로 수입되는 B.C.의 체리와 블루베리
In August and September 2022, Trade and Invest British Columbia hosted a multi-week promotion in Indonesia featuring British Columbia (B.C.) blueberries and cherries. Supermarket chain Ranchmarket and The Gourmet by Ranchmarket, along with Trade and Invest British Columbia, worked with B.C. distributors and Indonesian importers to bring fresh B.C. blueberries and cherries to Jakarta and Surabaya store shelves. Trade and Invest British Columbia, together with the Indonesian importers, organised various social media promotions, cooking demonstrations, in-store promotions and product sampling at the stores.
Why Blueberries and Cherries?
British Columbia is the largest producer of blueberries and cherries in Canada. Once you have had a chance to enjoy the flavour, freshness and quality, it's easy to see why local and global customers enjoy these appetizing fruits. Beyond the great taste, blueberries and cherries are both ranked as top antioxidants and are loaded with fiber.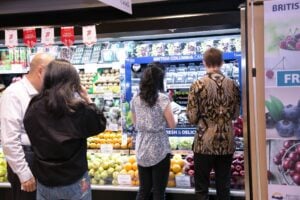 As fresh fruit imports to Indonesia have increased from $1.2 billion in 2020 to $1.4 billion in 2021, B.C. is using the ripe opportunity to ship our quality cherries and blueberries to the nation. As the Indonesian people are seeking healthy choices, the region is seeing an increase in demand for a wide variety of premium, fresh and nutritious fruit from around the world. As Indonesia itself does not produce either blueberries or cherries, the fruit garnered an exotic reputation and are even known to be given as a gift.
The B.C. cherry and blueberry harvest season running from late June through early September complements suppliers from other countries, like Australia, as their season can be between October-February. This means B.C. cherries and blueberries can capture consumers which would otherwise not be eating the fruit.
B.C. Farmers with the Goods
Berry Haven Farm in Abbotsford B.C. supplied their flavourful blueberries for this promotion. The farm entered the Indonesian market for the first time with the export support of World Fresh Export Inc. The exporter has been shipping its Northern Star brand for more than 25 years.
Jealous Fruits has been growing cherries in the Thompson-Okanagan region since 1990. The warm temperature and fruitful lands make for ideal cherry growing. They have been successfully shipping internationally for over 20 years with 95% of their produce being sold outside of Canada.
Both Jealous Fruits and Northern Star brands are distinctly recognized and well-received among Indonesian consumers.
Success in the Market
During the promotion, Supermarket chain Ranchmarket and The Gourmet by Ranchmarket, with Trade and Invest BC, spotlighted B.C.'s blueberries and cherries by showcasing them in dedicated displays within stores, applying promotional pricing, supplying a gift with purchase and hosting a launch event in the Ranchmarket Store in Lippo Puri Mall. As the product sold through, customers were excited to purchase the flavourful fruit.
These promotional supports resulted in rising sales of imported B.C. cherries by more than 40% compared to the previous year. B.C. blueberries also proved successful as they increased gross sales by more than 15% compared to the year prior. Customers complimented the juiciness and sweetness of the cherries and the crunchy, rich fullness of the blueberries.
This exciting promotion introduced many Indonesians to British Columbia's high quality, fresh produce.
Export is thriving in British Columbia. To learn more about export opportunities, contact one of our Trade and Investment Representatives today and connect with us on LinkedIn, Twitter and Vimeo.