B.C.에 새로운 cellcentric 시설 개장
International hydrogen fuel cell company, cellcentric, a 50:50 joint venture of Germany's Daimler Truck AG and Sweden's Volvo Group AB, opened a brand new, expanded facility in Burnaby, British Columbia (B.C.) earlier this year. The state-of-the-art facility is a keystone in cellcentric's global research and development, manufacturing and commercialization efforts to deliver critical fuel-cell systems to advance climate-neutral and sustainable transportation in heavy-duty trucking and other applications.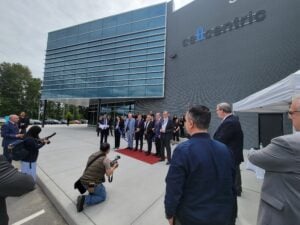 This new facility adds to a growing hub of hydrogen fuel cell technology and expertise in the city of Burnaby and the Greater Vancouver area, a region considered the Silicon Valley of fuel cell technology. World-renowned companies at the cutting edge of clean technology and hydrogen powered mobility have called this region home for more than three decades, contributing to this unique industry specialization and a highly skilled talent pool. The sector is further bolstered by local post-secondary institutions including two of Canada's leading research universities, the University of British Columbia  and Simon Fraser University. Access to and continued close exchange with the local expert network was a key deciding factor for cellcentric's choice of location.
Cellcentric Fuel Cell Canada Inc., under its former incorporations, has been based in Burnaby for over a decade and has been a key contributor to the region's industry cluster formation. Trade and Invest British Columbia representatives have worked closely with the company since its fuel cell business unit and research partnerships with B.C.-based Ballard Power Systems were initially established (then as Mercedes Benz) and has continued support as the company added fuel cell stack research and production in recent years. For the implementation of the new site, Trade and Invest BC was part of a concerted effort among federal, regional and municipal economic development partners to underscore the importance of the hydrogen fuel cell industry in the region and accelerate development efforts.
Cellcentric's new operation, encompassing two floors and approximately 56,727 square feet, is outfitted with advanced fuel cell stack production and testing equipment including seven test stands, as well as manual and automated production lines. The operation is now capable of three times the output and has twice the space compared to the company's previous site. The built-to-suit production floor and office space accommodates up to 120 employees providing cellcentric with the crucial footprint it needs to double its local workforce and further advance world-leading fuel cell innovation right here in B.C.
Fuel cell stacks, the development and production of which the Burnaby site is responsible, is a crucial component in fuel cell production and critical to cellcentric's manufacturing supply chain. Moreover, the move to a new facility and expanded production capacity comes at a vital time as fuel cell series production ramps up at the company's sites in Germany. The fuel cell stack is the heart of a fuel cell unit. Several fuel cells are arranged in a row to form a stack of cells. By connecting the individual cells in series, the power output of the stack can be varied and adjusted according to the requirements. The finished fuel cell stacks produced in B.C. are further integrated into other fuel cell system components in Germany, at cellcentric's headquarter location in Kirchheim and Teck-Nabern (Stuttgart region) and assembled into the finished fuel cell units. Cellcentric's expansion is a clear commitment for fuel cell technology and for doing business in British Columbia.
The future is bright with companies like cellcentric making deeper investments in the province. They, along with several other globally recognized companies, are helping to establish B.C. as the world leader in hydrogen fuel cell technology.
About cellcentric:
Cellcentric is a 50:50 joint venture of Daimler Truck AG and the Volvo Group AB formed on March 1, 2021 and takes advantage of the expertise and extensive experience from several decades of development work on fuel cells within its predecessor companies. Cellcentric's ambition is to become a leading global manufacturer of fuel cells, and thus help the world take a major step towards climate-neutral and sustainable transportation by 2050. Cellcentric's primary focus is to develop, produce and commercialize fuel cell systems for use in heavy-duty trucks, as well as other applications with a comparable set of requirements to be supplied to the shareholders Daimler Truck AG and the Volvo Group as well as to other customers. Today, several hundred highly specialized colleagues work on the success of fuel cell systems in inter-disciplinary teams at locations in Kirchheim/Teck-Nabern, Stuttgart-Untertürkheim and Esslingen, as well as Burnaby, B.C. Around 700 patents have been issued, underlining the leading role played by the company in terms of technological development.
For regular trade and investment news regarding B.C.'s fuel cell sector, follow us on Twitter and LinkedIn.